STAY UP TO DATE
News and Events
Learn more about our grant and award recipients, find information on our latest programs, and get updates on our upcoming events.
Press Releases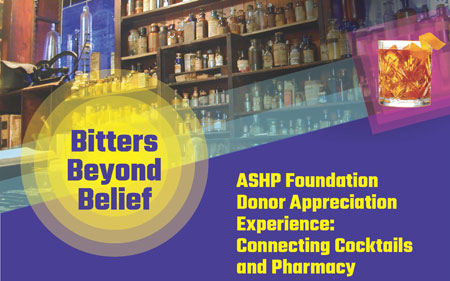 Sunday, December 6 at 5 p.m.
"Bitters Beyond Belief" Donor Appreciation Experience: Connecting Cocktails and Pharmacy
Join us virtually on Sunday, December 6 at 5 p.m. as we bring a taste of New Orleans to you! During this unique experience, cocktail historian, author, and podcaster Elizabeth Pearce will take us on a guided tour of the New Orleans Pharmacy Museum, and enlighten us on how bitters used in two iconic cocktails, the Sazerac and the Old Fashioned, correlate to pharmacy. If you can't join us, please consider giving today. Every dollar makes a difference!
Other events
Sign up to get the latest news from ASHP Foundation