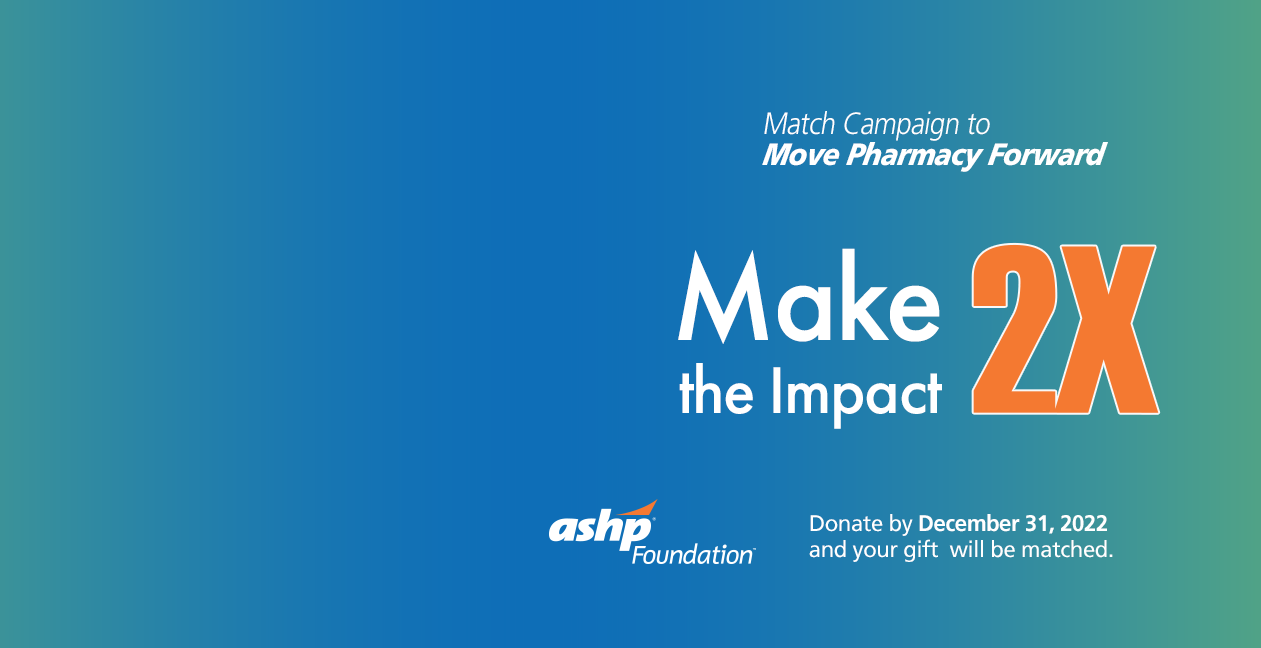 double your donation
Match to Move Pharmacy Forward
Your tax deductible gifts support ASHP members and help us continue to offer leadership development programs, research grants, and educational tools. Donate by Dec. 31, 2022, and our corporate supporters will generously match all donations, dollar for dollar, doubling the impact of your gifts!
Donate now
Our once-a-year donor match has been activated!
GIVE TODAY AND YOUR GIFT WILL BE MATCHED BY OUR GENEROUS CORPORATE SUPPORTERS
make twice the impact
Give Today and Your Gift Will be Matched
Every tax-deductible contribution you make between today and Dec. 31, 2022 will be matched dollar for dollar from our generous corporate supporters, Alexion, Boehringer Ingelheim, Fresenius Kabi, Omnicell, QuVa Pharma, and Samson Medical Technologies.
The ASHP Foundation is entirely supported by individual and corporate contributions, and thanks to the support of generous donors like you, the Foundation can continue to have a tremendous impact on pharmacy practice – and ultimately, the patients that pharmacists serve.
Why I Give
"I give to the ASHP Foundation because the Foundation's research and education programs stimulate practice-based innovation and keep moving pharmacy forward. They tirelessly support ASHP, which has played a large role in my career." Kelly Smith, PharmD, FASHP, FCCP, ASHP Foundation Chair, ASHP Past President
Donate Now
Support the ASHP Foundation
The ASHP Foundation provides exceptional programs that support research, prepare pharmacists to become leaders on interdisciplinary teams and recognize excellence in pharmacy practice.  We can't do it without you. Invest to advance pharmacy practice. Invest in better patient outcomes.
Donate Now
Our Impact
Inspiring Change Across Pharmacy Practice
The ASHP Foundation works to advance pharmacy practice and improve patient outcomes by supporting programs that enhance pharmacists' patient care skills, validate the important role that pharmacists play in the healthcare system, invest in future leaders and recognize excellence in research and practice.
Learn More
accountability and transparency
Platinum Seal of Transparency
The ASHP Foundation has earned the Platinum GuideStar Nonprofit Profile Seal of Transparency, the highest level of recognition offered by GuideStar, the world's largest source of nonprofit information. The designation is only awarded to charities illustrating the highest level of responsible fiscal management and commitment to accountability and transparency.
Support the ASHP Foundation
With your meaningful contributions, we can continue to support programs that advance pharmacy practice, enhance medication safety, and improve patient outcomes. Help us move pharmacy forward by donating today.
Donate
Sign up to get the latest news from ASHP Foundation