double your donation
Match to Move Pharmacy Forward
Your tax-deductible gifts support ASHP members and help us continue to offer leadership development programs, research grants, and educational tools. Give by December 31, 2021 and our corporate supporters will generously match all donations, dollar for dollar, doubling the impact of your gifts!
Donate now
make twice the impact
Give Today and Your Gift Will be Matched
Every tax-deductible contribution you make between today and December 31, will be matched dollar for dollar from our generous corporate supporters, Alexion, Fresenius Kabi, Omnicell, QuVa Pharma, Novo Nordisk, and Samson Medical Technologies.
The ASHP Foundation is entirely supported by individual and corporate contributions, and thanks to the support of generous donors like you, the Foundation can continue to have a tremendous impact on pharmacy practice – and ultimately, the patients that pharmacists serve.
"I give to the ASHP Foundation because the Foundation's research and education programs stimulate practice-based innovation and keep moving pharmacy forward. They tirelessly support ASHP, which has played a large role in my career."
Kelly Smith, Pharm.D., FASHP, FCCP
ASHP Foundation Vice Chair
ASHP Past President
Every dollar you donate makes a difference!

#GivingTuesday - November 30th, 2021
On November 30, 2021, the ASHP Foundation will be participating in #GivingTuesday, and we need your help to reach our goal of raising $25,000 in one day! Because of the generosity of our supportive donors, the ASHP Foundation has:

• Developed leadership skills for pharmacists through the Pharmacy Leadership Academy, which has graduated over 950 emerging leaders.

• Supported ASHP's commitment to diversity, equity, and inclusion (DEI) by awarding five research grants in 2021 of $10,000 to early stage pharmacists for DEI focused research.

• Prepared new pharmacists for practice by supporting 185 residency program visits since 2012, reaching almost 1,200 residents.

By joining the global #GivingTuesday movement, you will demonstrate that in times of uncertainty, generosity can bring the whole world together. Here is how you can get ready to give:

1. Give. On November 30th, go to the donate page on our website and make a donation to the ASHP Foundation. Every dollar makes a difference!

2. Spread the word. Encourage your friends and family to join you in creating real impact on November 30 by sharing what our mission means to you and why you support the ASHP Foundation. Make sure to use hashtag #GivingTuesday and tag us so we can share!

During our Donor Match Campaign to Move Pharmacy Forward, all donations raised through #GivingTuesday will be matched dollar for dollar by our generous corporate supporters, Alexion, Omnicell, Fresenius Kabi, QuVa Pharma, Novo Nordisk, and Samson Medical Technologies. Help us make twice the impact with your tax-deductible donation!
Platinum Seal of Transparency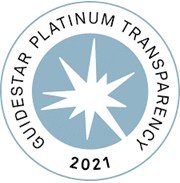 The ASHP Foundation has earned the Platinum GuideStar Nonprofit Profile Seal of Transparency, the highest level of recognition offered by GuideStar, the world's largest source of nonprofit information. The designation is only awarded to charities illustrating the highest level of responsible fiscal management and commitment to accountability and transparency.
Our Impact
$3.3M
awarded in research funding since 2006
1,000
residents have benefited from our Visiting Leaders program
$3.7M
granted to create more residency positions
How Our Programs Move Pharmacy Forward
Read these articles to learn how our programs keep pharmacy moving forward.
our impact
Pharmacy Leadership Institute Project Leads to Institution Improvements
In 2017, Carilion Giles Community Hospital Pharmacy Manager Amy Westmoreland, Pharm.D., BCGP, completed the Pharmacy Leadership Institute and was awarded for her project. Her work during the Institute was used to jump-start Carilion's larger efforts to improve transitions of care. Today, she and her colleagues have created a comprehensive medication management program that allows diabetes patients more access to their pharmacist after discharge.
Learn more
ASHP FOundation donor
From Our Donors
Foundation Donor
Through its variety of offerings, the Foundation facilitates changes in pharmacy practice that result in meaningful improvements in patient's lives. Its emphasis on patient safety really connects with my passion!
Foundation Donor
I feel privileged to be in a position to give back to the profession that has served me very well. I believe the work the Foundation does to improve the health and well-being of our patients.
Support the ASHP Foundation
With your meaningful contributions, we can continue to support programs that advance pharmacy practice, enhance medication safety, and improve patient outcomes. Help us move pharmacy forward by donating today.
Donate
Sign up to get the latest news from ASHP Foundation