MOVING PHARMACY FORWARD
About the ASHP Foundation
The ASHP Foundation is the philanthropic arm of ASHP, a national professional organization that represents pharmacists who serve as patient care providers in acute and ambulatory settings.
OUR MISSION
about the ASHP Foundation
Improving Patient Outcomes Through Safe and Effective Medication Use
In 1968 three visionary leaders in health-system pharmacy, Joseph Beckerman, Joseph Oddis, and Milton Skolaut set out to create a nonprofit organization to encourage scientific research and professional study, and advance pharmacy practice. Since then, the Foundation, the philanthropic arm of ASHP, has established itself as a pioneer in helping pharmacists improve patient care.
We continue to help raise the bar for health-system pharmacy, supporting or offering an array of programs, including awards, clinical traineeships, leadership training, and research grants resources. By supporting the Foundation, you are investing in the future of the pharmacy profession and, ultimately, you will be improving patient care and safety.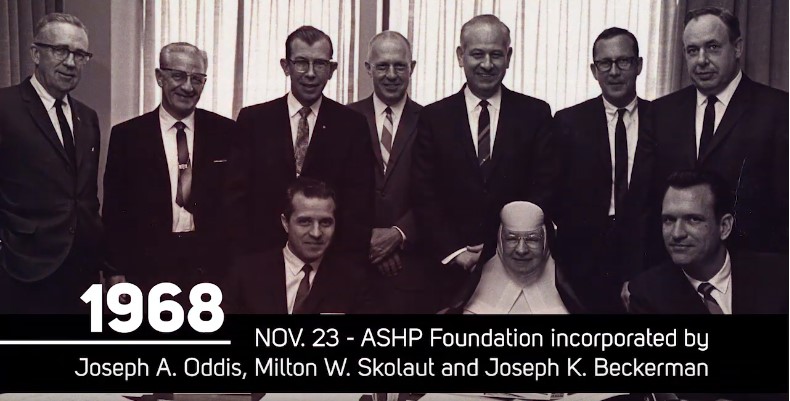 Honoring our past
Celebrating 50 Years
Learn more about our rich history and how the Foundation's efforts have helped pharmacists become vital members of the healthcare team through appropriate, safe, and effective medication.
Support the ASHP Foundation
With your meaningful contributions, we can continue to support programs that advance pharmacy practice, enhance medication safety, and improve patient outcomes. Help us move pharmacy forward by donating today.
Donate
Sign up to get the latest news from ASHP Foundation